Home automation and smart homes are the future. This is not an opinion, but a fact and most of us are aware of this fact. However, there is a large transition period going on where people are ditching their traditional devices for ones that are connected to the internet. These can be simple things from your smart speakers to even your garage. One of those simpler things is a door lock, which is what we're talking about today.
If you are ready to ditch your keys, a smart lock is the next natural step. They bring the traditional mechanism of locking your door online and to your phone. You can manage these locks from anywhere, depending on the device of course. If you get the right lock, it just might change your perspective on smart home devices. It also gets rid of the hassle of always looking for your keys.
But people are hesitant to ditch their keys and go with smart locks. This is understandable since people need secure, intuitive, and simple devices to lock their doors. It defeats the purpose if your smart lock isn't all that smart in the first place. With all of that in mind, here are the best smart locks you can buy in 2022.
1. August Wi-Fi 4th Generation
Best Overall
Pros
Works with existing deadbolt
Easy to install
Safe and reliable
Auot-unlock works well
Connects out of the box
Cons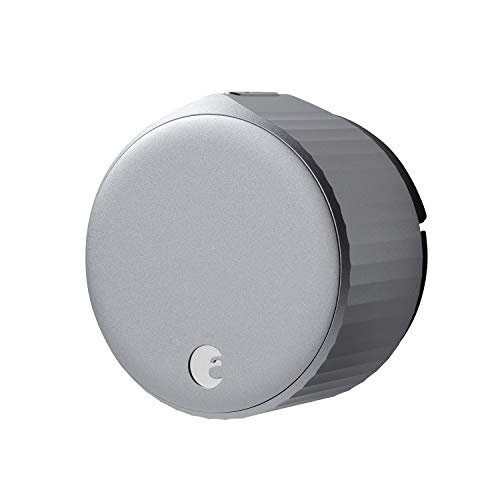 6,332 Reviews
Wi-Fi: Yes | Voice Control: Yes | Power: 2 x CR123A batteries

Check Price
The August Wi-Fi Smart Lock is an unassuming device. It includes an August lock and a DoorSense sensor. Like other smart locks, this one has Wi-Fi built-in, so there is no need to buy a separate module for remote access. It is much smaller than its predecessors and works seamlessly with Siri, Google Assistant, and Alexa.
The best part is that this thing can fit into your existing deadbolt in minutes. It is very easy to use and the installation is intuitive. Thanks to the online functionality, you can lock and unlock this door from anywhere in the world. It connects right out of the box, so you don't need to tinker around with Wi-Fi settings. Since it attaches to your existing deadbolt, you can still use your keys.
The lock auto-unlocks the door when you arrive and locks the door when you leave. You don't need to fumble with keys or even the app. It works quite well. You can send secure keys to friends and family as well, so the door unlocks for them when they arrive. This smart lock is quite small, and the added benefit of voice control is a great feature. The only con is that it is quite expensive.
2. Ultraloq U-Bolt Pro Smart Lock
Loaded with features
Pros
Several ways to enter
Fingerprint works well
Reliable auto-unlock function
Hidden keyhole
Cons
No voice control
Unattractive design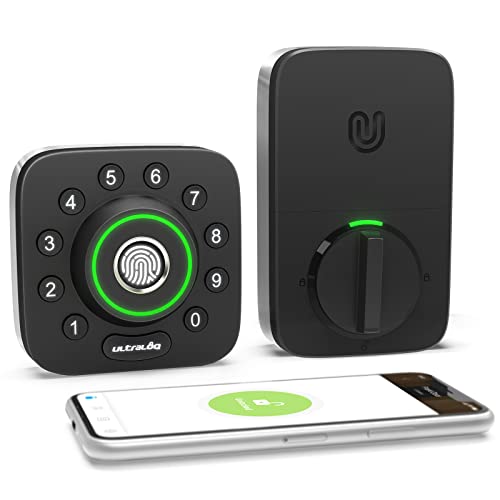 6,702 Reviews
Wi-Fi: Yes | Voice Control: No | Power: 4 x AA batteries

Check Price
The Ultraloq U-Bolt Pro is another great lock if you're looking for more features at a lower price. While other locks might lock more attractive, this one has all the features you'll ever need. Taking that into account, it actually comes out as a very attractive value. It is easy to install and setup as well.
This 6-in-1 Keyless lock has Bluetooth, fingerprint recognition, and even a keypad. The keypad has an interesting feature: You can add random numbers before and after the actual password so no one can guess it. Apart from that, it has the usual auto-lock and auto-unlock features built-in. The fingerprint scanner is located in the center and appears to be the most reliable option. This one also attaches to your pre-existing deadbolt with ease.
Another interesting feature is that you can flip open the top and access the keyhole. This way you can use your keys if you want to. Having that security is always a good thing. There are several other ways to open the lock, like using the app on your smartphone. Due to all of these features, this is one of our favorite smart locks. We just wish it looked less obvious.
3. The Level Bolt
Most Intuitive
Pros
Extremely easy setup
Inconspicuous design
Secure steel gearbox
Homekit compatible
Cons
Expensive
Doesn't work with every door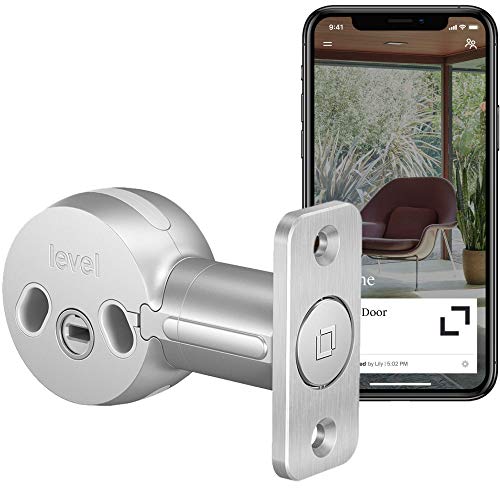 1,045 Reviews
Wi-Fi: No | Voice Control: Yes | Power: Single CR2 battery

Check Price
Next on our list is a very unassuming smart lock. This tiny device is called the Level Bolt. They claim it to be the Invisible Smart lock. It has Bluetooth built-in, which allows keyless entry when you get close to the door. The installation is quite simple, and it works reliably. Let's see what it's all about.
The level lock is designed to replace your existing deadbolt. Installation is quite simple, replace your old lock mechanism and install this one. It runs off a single CR2 battery, which should last about a month. From the outside, it looks just like your average door lock that works with a key. However, it is controlled via an app, and it automatically unlocks when you get close to the door. This is a great option if you want to be cautious and install a hidden smart lock on your door. It really is invisible, even to yourself, after installation.
One thing to keep in mind is that this works with standard doors flawlessly. However, the strike plate is larger than the one you'll find on the residential deadbolt. They have a compatibility checker for this purpose, so you can see if it works with your door before buying.
You can also give friends and family the ability to use their phone or a key to enter your home. It is also quite secure as it features a 6-gauge stainless steel gearbox. It works with iOS and Android. It's also compatible with Apple Homekit, so you can use Siri with it. Overall, this is a very interesting product, and one worth taking a look at for your smart home.
4. August Smart Lock + Connect Wi-Fi Bridge
Best For Apartments
Pros
Easy installation and setup
Works reliably everytime
Understated design
Cons
Expensive
Wi-Fi should be built-in
1,898 Reviews
Wi-Fi: With Connect Wi-Fi Bridge (sold separately) | Voice Control: Yes | Power: 4 x AA Batteries

Check Price
August finds itself another spot on our list. They have been making waves in smart home tech for a while now. It's good to see that they are earning some popularity, as this will bring more people towards a smarter home lifestyle. Anyways, if you live in an apartment or a condo with just one entry, this Smart Lock + is a great option.
On its own, this Smart Lock + does not have any WI-Fi capabilities. You can buy a bundle that includes the Connect Wi-Fi bridge or get it separately. This smart lock is made out of Satin Nickel and looks quite good. Thanks to the added Wi-Fi, it allows keyless entry to your home from anywhere. It also brings voice integration and remote access right out of the box.
This lock also allows you to keep your existing lock and keys. The Smart Lock + attaches to the inside of your door. It also works with your existing deadbolt. Installing it takes about 10 minutes. The DoorSense feature gives you a notification on your phone whenever the door is closed or opened. It auto-unlocks when you arrive, and it's quite reliable with that feature.
You can also add an August Smart Keypad for key-code entry to your door. Of course, that is sold separately. Overall, it works well as Smart Lock. We just wish that it had Wi-Fi built-in, as that extra module can drive the price up by quite a bit.
5. Google Nest X Yale Smart Lock
For Nest Owners
Pros
Works seamlessly with Nest products
Great design and construction
Safe and reliable
Cons
Quite expensive
Wi-Fi module sold separately
Competitors are cheaper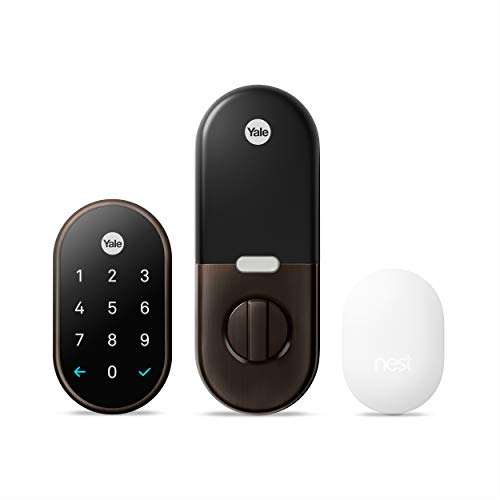 2,212 Reviews
Wi-Fi: With Connect module (sold separately) | Voice Control: Yes | Power: 1 x Lithium Polymer Battery

Check Price
The Google Nest X Yale lock is something that people expect to be excellent. This is mostly because Google and Nest have a good history with home automation, and people feel safe using their products. Well, this Smart Lock is no different, and it is a great addition to your pre-existing Nest ecosystem. With that said, this expensive offering does have a few caveats.
First off, this Smart Lock looks very attractive, just like other Nest products. The keypad goes on the outer side of the door, while the locking mechanism goes on the inner side. Installation is quite easy, and you can do so with a Phillips heads screwdriver. Just make sure that it sits securely in place, as an insecure install might cause problems later down the line. Like other locks, this one replaces the deadbolt you already have.
You can enter your home by entering a pin at the front, or by opening the app. Great, but what about Wi-Fi. Well, this one easily works with the Nest Connect module. This allows the door to auto-lock and auto-unlock. However, what if you don't have that connect module, you'll have to get it separately. This is a bit frustrating since no one wants to open an app every time they reach home.
This smart lock works well with other Nest products like the video doorbell, and several Nest cameras. However, if you're not knee-deep in that ecosystem, the other options are also good alternatives.